The Marketplace
Connect directly to nation-wide, provincial, and local perks for your schools and classrooms.
You must be a Chalkboard Plus member to view the full resources. You will be prompt to login when you click the "read more" button. Not a member? Join Now.
Already a member looking for personal perks? Access your personal perks here.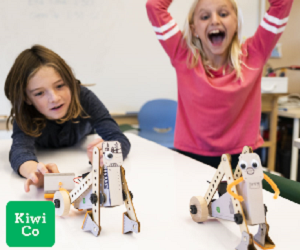 35% off your first Kiwi Co subscription
November 28, 2019
We inspire kids to see themselves as makers—engineering and creating their own innovative designs and outcomes. Our fun and enriching STEAM projects are designed to spark creativity, tinkering, and learning.
Not yet a Chalkboard Plus Member?
Would you like to take advantage of the many benefits and resources provided by Chalkboard Plus? Your school or school board must be registered with us first, so check with your administrator to see if you're eligible to register. Want more information?